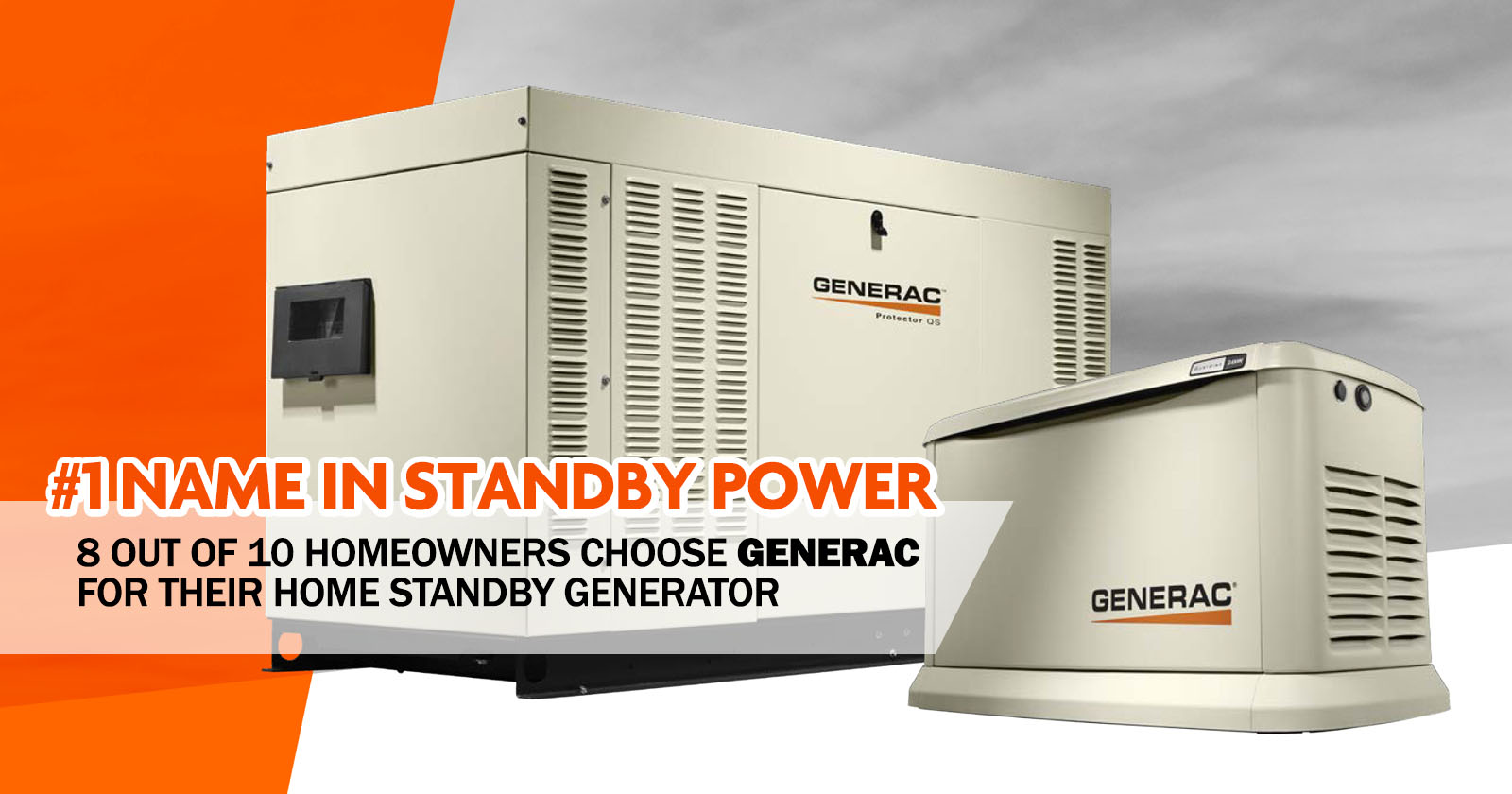 Albrite Electric is proud to be Generac Generator Factory Authorized whole house home generator installers. Ask our sales team about our interest financing package for qualified buyers.
What is a Whole House Generator?
A whole house generator is an automatic backup power system that supplies electricity to your entire home during the unfortunate event of a power outage. Unlike a portable generator that runs extension cords inside to power appliances, a whole house unit is permanently installed outside and wired into your home's electrical system. This allows it to seamlessly power all electrical circuits when local utility power from NYSEG is lost.
Whole house generators run on natural gas or propane so there's no need to store fuel if you have city or town municipalities. Generac Generators come in different kW output sizes from 10 kW up to 50 kW or more. The proper size unit depends on the square footage of your home and what you want to power. Basic units will run air conditioning, fridges, freezers, some lights and outlets. Larger units can handle high wattage appliances like electric stoves, dryers, and hot water heaters.
Generators automatically detect a power outage when voltage drops and start within seconds to restore electricity. They run as needed until utility power returns at which point they shut off and wait for the next outage.
Why Your Upstate NY Home Should Have a Whole House Generator
Binghamton, NY homeowners understand the annoyance that goes along with power failure, particularly during extreme weather such as damaging summer storms and winter blizzards. What you might not realize, however, is that power failure is not only annoying, it's dangerous. The loss of power in your home might irritate you when it's out for a short time, but when it's out for longer periods of time, it can cause health problems such as illness due to eating food that went bad in the freezer or fridge without your knowledge. Imagine coming home from vacation and using eggs from your fridge to cook a meal when unbeknownst to you, you power was out for three days while you were gone.
NEW! Apply for financing for your new home generator! Click the "Apply Online" button to get started.
Homeowners often take power for granted. It's readily available, and you rely on it for your most basic of household needs. An electric generator will give you the assurance you need when inclement weather wreaks havoc on your electricity. If the power goes out, your generator can right the situation and provide you with the power you need to survive. Albrite Electric offers generator services including Generac generator installation to Binghamton, NY residents. Albrite's trained techs offer services such as the following:
Generac Generator Service
Generac Generator Installation
Generac Generator Repair
Generac Generator Replacement
Generac Generator Transfer Switch Installation
Benefits of Whole House Generator Installation
There are many benefits to having a whole house generator professionally installed:
Uninterrupted Power - With a generator, you don't have to worry about losing power and being left in the dark without AC or heating. All your daily necessities like lights, fridge, freezer, security system, etc. keep running even when your neighbors are left in the dark.
Appliances & Equipment Protection - When the power goes out and comes back repeatedly, it can damage electronics and appliances. A generator provides clean, stable electricity that prevents voltage spikes.
Avoid Spoiled Food - Keep your refrigerated and frozen food from spoiling during extended outages. The generator will keep the fridge and freezer at safe and constant temperatures.
Safety & Security - Enjoy the security of operational lights, alarm system, garage door, etc. It also reduces fire risks from using candles or portable generators incorrectly indoors.
Value to Your Home - Whole house generator installation can increase your home's value and appeal to buyers. Homes with backup power sell quicker in many markets.
Peace of Mind - Have confidence knowing your family will have basic necessities met during power emergencies. It provides comfort not having to worry about preserving food or medications.
What You Lose When the Power Goes Out
| | |
| --- | --- |
| Refrigeration/freezer for food and medicines | Furnace |
| Air conditioning | Lighting – inside and outside |
| Clean water for drinking and bathing | Sump pump |
| Kitchen appliances | Contact with the outside world; Internet, cell phone chargers, TV, radio and more |
| Washing and drying clothes | Security system |
| Garage door opener | Fans |
| Medical equipment | Charging power tools for use during the emergency and post-outage cleanup |
| Monetary loss from temporary relocation, hotel costs, dining out, property damage, etc. | |
Generac Generator Installation
When you choose to have an electric generator installed in your home, you'll need to have it done by a professionally licensed electrician. It's not a job you can do yourself to save money. Albrite Electric has many years experience installing electric generators in Binghamton homes and businesses. Our licensed electricians will come to your home or business and install your new electric generator with professionalism and without getting in your way. Albrite electricians will help you choose an electric generator that suits the needs you have in your home or business as well as your budgetary confinements.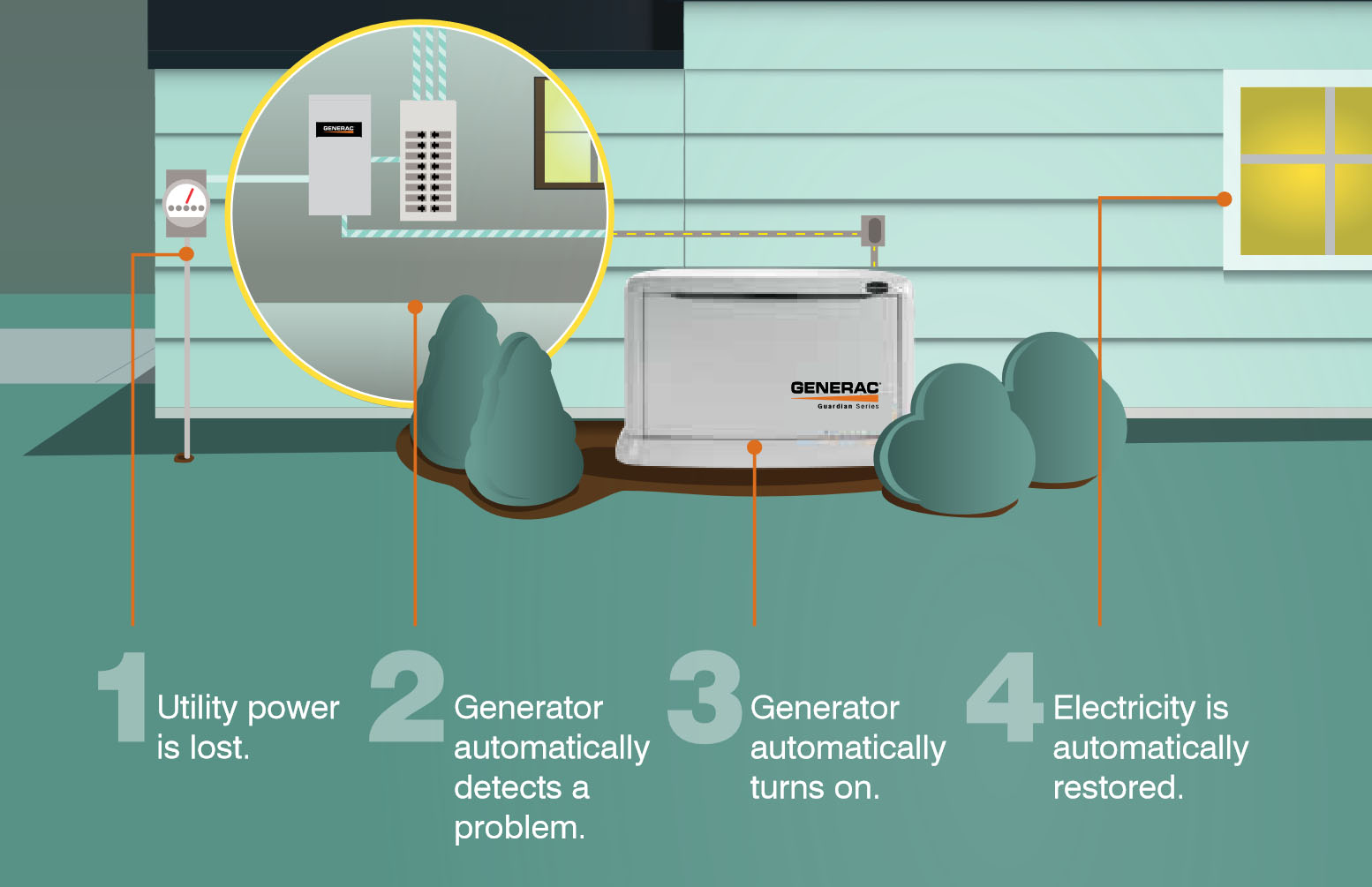 What is the Installation Process?
Installing a whole house generator is a significant project that requires proper planning, permits, and professional installation by factory trained experts. Here is an overview of what's involved:
Site Evaluation - Identify the best location outside your home with adequate clearance and ventilation. Natural gas lines or propane tanks need to be accessible.
Permits & Inspections - Your electrician will obtain the required permits and schedule inspections by the local building department.
Meter & Panel Work - The main electrical panel will be upgraded and a transfer switch installed to safely manage power between the generator and utility service.
Unit Mounting - Generator is mounted on a concrete pad and properly anchored. Gas and electrical lines are connected and inspected.
Load Calculations - Your electrical load is calculated to size your Generac generator for proper power output.
System Testing - Your new generator is thoroughly tested under load to ensure smooth operation when needed.
Post-Install Consultation - Your electrician provides instruction on proper maintenance of your new whole house generator and how to operate your system and mobile connected device.
Proper permitting, installation by a licensed professional, and load calculations are extremely important for whole house generator systems. Incorrect sizing or wiring can lead to overloaded circuits, damage, or dangerous situations like back-feeding utilities.
Tips for Selecting the Right Size Generac Generator
Choosing what size whole house Generac generator you need is an important decision. Here are some helpful tips:
Consider your budget - Units range from $3,000 up to $15,000 or more installed. Calculate operating costs too - fuel consumption rises with kW output.
Make a list of must-run loads - Be sure to include air conditioning, electric heat, well pump, large appliances, etc. that you want powered.
Allow for future expansion - If you may finish basements or garages later, size up accordingly now. It's cheaper than upgrading later.
Choose right fuel type - Natural gas is convenient but propane can be easier if gas lines are far away from the installation area. Note that propane requires larger storage tanks.
Buy larger than you need - It's better to have more power capacity and not need it than to max out a generator's load. Oversizing extends the life of your Generac generator.
Consider your generator's sound rating - Larger units can be louder. Measure distance to neighbors' homes and determine acceptable noise levels.
Get quotes for different sizes - We recommend considering at least a 20kW unit for most single family homes to cover essentials.
Contact a professional - An experienced electrical contractor like myself can ensure you get the properly matched system.
Home Generator FAQ
Why should I install a whole house generator instead of a portable generator?
There are a number of advantages in installing an automatic home generator rather than using a portable generator during an outage. These include:
Portable generators run the risk of deadly carbon monoxide poisoning when running.
Propane is much more cost effective to power your home than gasoline during a power outage.
A whole house generator will start within seconds of detecting a power outage.This eliminates the need to haul out your generator and run extension cords throughout your home.
Home generators provide 24/7 protection, whether you're away on vacation, sleeping, etc.There is no need to check if power has returned or monitor your system during an outage.
How do I size my home generator?
The size of your home generator depends on many factors and you're best off calling a professional to schedule an estimate. These factors depend on your heating and cooling system, size of your home, number of appliances, average draw on your meter, and more. Another factor is if you desire to power just a few circuits or your entire home, which may include multiple electrical panels. Generac has a handy home generator sizing calculator for your convenience on their website.
What is an automatic backup generator?
An automatic home backup generator provides back-up electrical power from propane or natural gas for your home in the event of a power outage. In just seconds, your home generator powers on and provides power to your home electrical circuit breaker box. When power returns, your generator will automatically power down and is ready to go for any future outage.
What if I don't have propane or natural gas?
If you have neither propane nor natural gas, we can work with a local propane company to install a propane tank on your property as part of our installation cost.
How big should my propane tank be so I don't run out?
We recommend a minimum 250-gallon propane tank to power your whole house generator. Every home and the needs of a homeowner vary greatly and the only way to truly know the best size propane tank for your generator is to schedule an estimate.
How much does home generator installation generally cost?
A simple installation can cost as low as $2,000 (not including equipment charges) but can vary greatly depending on your home and generator size. Items that can impact cost include how far away your home generator installation will be from the nearest propane or gas line, the size of generator needed, and the amount of materials necessary for the installation.
Can I install a home generator myself?
Due to safety concerns with the amount of power that will be transferred, along with adherence to all local, state, and national electrical codes, installing a whole house generator as a DIY project is strongly advised against. Only an authorized Generac dealer can install your system properly to receive your Generac warranty.
Generac Generator Service
Albrite techs offer an array of services for your generator needs. This includes on-site delivery of your generator as well as emergency servicing of your generator. Albrite electricians are highly trained in servicing all models of Generac Generators.. This comprehensive knowledge and experience makes it possible for Albrite techs to complete your generator service with confidence and guaranteed customer satisfaction.
Generac Generator Repair Services
Many homes and businesses already have generators installed in the Greater Binghamton region. If you're one of these people, you might worry that your generator may experience technical difficulties when you need it most. If your generator fails to work during a sweltering summer storm or frigid winter weather, Albrite techs will respond immediately to your home or business to repair your Generac generator. To ensure your generator works perfectly, Albrite Electric recommends yearly generator maintenance. Trained techs will assess and diagnose any potential issues before they become issues, preventing breakdown when you most need your generator.
Generac Generator Replacement
Like anything else in your home, generators do not have a lifetime guarantee. In fact, they will periodically require replacement. If your home or business consists of a generator that is experiencing frequent issues, you might consider replacing it now before you need it again. Albrite techs will come to your home or office and perform a myriad of tests to determine whether or not your generator needs a minor repair or replacement. If replacement is necessary, Albrite techs will help you choose a new electric generator that's powerful enough for your electric needs, deliver it, and install it for you.
Generac Generator Transfer Switch Installation
To ensure you can operate a number of electrical components at once using your generator, you will need a transfer switch. This switch makes it possible for you to heat your water, watch television, keep the fridge working and even cook dinner when your power is out. Most typical generators don't have the capacity to handle so much voltage at once due to the absence of a transfer switch. Albrite Electric electricians will install your very own transfer switch to give you the power to perform these actions simultaneously. This is the type of installation that requires professional installation.
Why Choose Albrite Electric?
As licensed and insured electricians, Albrite Electric takes safety and compliance seriously on every one of our Generac home generator installations. When you choose the professionals at Albrite Electric, you can count on:
Trusted Expertise - 20+ years of installing whole house generators in the greater Binghamton area. We can advise on the best system for your needs, your budget, and our Upstate New York climate.
Quality Workmanship - Factory certified Generac trained installers, clean & safe wiring, and attention to every detail. Our team takes pride in our work.
Start to Finish Service - I handle all permitting paperwork, coordination with the utility company, and inspections. No hassle for you.
24/7 Emergency Service - As a locally based company, Our home generator professionals are available nights and weekends should any issues arise with your whole house generator down the road.
Satisfaction Guarantee - Our A+ Google reviews speak for themselves. We won't rest until you are completely satisfied with your install.
Call Albrite Electric Today
If you are a Binghamton resident in need of a new whole house generator, generator repair, replacement, or transfer switch installation, call Albrite Electric today. Don't wait until your power is out and it's too late. Call now to prevent the inconvenience and safety hazards associated with power failure.